I have looked up to Miley Cyrus since I was a preteen. Not only as an iconic performer but as a role model. I know how that might seem, but hear me out. She has made some mistakes along the way, but that is the whole point about growing up and learning. She has had her entire life televised for the world to see and judge. I started watching her on Disney channel for years as Hannah Montana. But after being one of the richest teenagers, she faced many controversies. Disney dictated her whole life including how to keep her hair, music, and style. Finally, when her Disney chapter came to an end, she decided to gain back the teenage years that she once lost. She took a break from music for a short period of time, but when she came back, her young audience was stunned. Her new look wasn't the only thing that changed, her behavior and music represented something that no one would expect. But what is so wrong with that? She was trapped in the "Disney Channel bubble" for so long, no wonder she decided there was a need for a change.
The Bangerz album came out six years ago, which gained high successes including grammy nominations, millions of views, and over a million albums sold after its release. I remember hearing all of my friends at that time saying how they missed the old Miley, and she was no longer pretty because she had short blonde hair. After Miley decided to have this transformation a spark in the celebrity world took off. I noticed a lot of female role models decided they needed and change, but also that you can still be beautiful with a "boy hair cut."
She talked about sex, drugs, and partying; which many rappers and other artists often sung and talked about. But since it was her, it was too taboo for society to handle. She continues to post and defend herself on social media. She talks to her followers about a double standard between males and females. This double standard created by a society that exists where females can not act how men do when they are dating, or moving on from relationships. The reason she gained so much attention was mostly from people trashing her in every which angle. But she didn't care. She needed this change for her own sanity and for others out there who feel like they can't be themselves. She has continued to be a huge LGBTQ+ community supporter and came out as pansexual. Cyrus created a non-profit organization called The Happy Hippie that she funded and assists in homeless, LGBTQ+ community youth, and other youth minority groups. And volunteers to sing and teach at women's marches all around the states. Just because she has veered away from the norm, doesn't mean she still can't be a role model to all walks of life.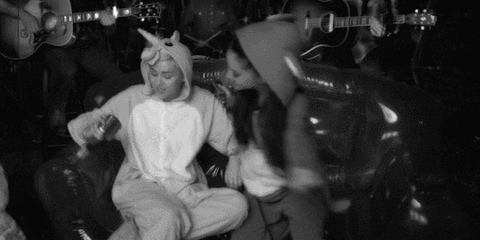 Miley Cyrus may be a bunch of things but she is doing what we have all done, but just in the eyes of the media. It's a shame that she hasn't been praised for her changes throughout her life because we all endure change and growth.  Miley, in my opinion, has grown into more of a leader than ever before.