10. 14. 15. These numbers may not mean anything by themselves, but when they represent the ages of young girls being scouted for the intimidating world of high fashion modeling, they hold a deeper meaning. While modeling may seem harmless, with its image of women walking up and down runways or posing for pictures, it is actually one of the most dangerous occupations for a woman to hold, no less one that hasn't even hit puberty yet.
One of the biggest culprits of upholding this norm has been Vogue, one of the largest fashion books in the world. It was Vogue who featured Brooke Shields on their cover when she was just thirteen. Then there was the highly criticized shoot of 10-year-old Thylane Blondeau for Vogue Enfants.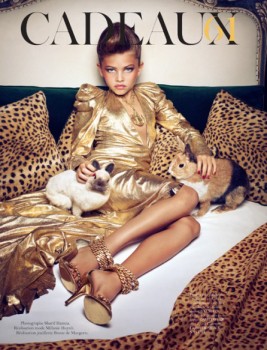 However, they have recently been changing their tune by announcing that they will no longer be hiring models under the age of 18. Conde Nast, the publisher of Vogue and many other magazines, recently issued a new code of conduct concerning the safety of the models hired by the company.
These regulations have been long overdue, with new stories coming out everyday of girls being exploited and thrown aside like garbage because they grew an inch. It shouldn't have taken the #MeToo movement for Conde Nast to realize that twelve year old girls should probably not be marketed as 20 year old women, and that fourteen year olds shouldn't be pressured to pose topless. I don't know about you, but I personally am over lauding giant companies and celebrities for announcing their new and improved moral compasses.
Sorry not sorry,
@notlikeothergirls
Photo creds:
http://www.mandatory.com/culture/1208343-thylane-blondeau-the-controversy-behind-the-most-beautiful-girl-in-the-world-and-what-she-looks-like-now