I have always loved movies. They are a way to unwind, to lose yourself. A means of entertainment but also, at times, enlightenment. Growing up, "movie nights" were a big thing in my family. We would pick movies, make themed snacks and drinks and hunker down. So naturally, whenever I come home, "movie nights" are something I look forward to.
In my most recent movie night, it was not my turn to pick. I typically enjoy comedies, thrillers and the standard "chick flicks," but am usually game for anything. So, when my younger brother suggested "The Wolf of Wall Street," a movie I surprisingly had not seen, I said "sure." If you are unfamiliar with the film, the movie is modeled after a true story, starring Leonardo DiCaprio as Jordan Belfort, a man who works his way up as a penny salesman to a big shot at a top Wall Street Brokerage Firm. The movie follows Jordan's journey to success, highlighting his newfound money and power, allowing him access. Access to opportunity, to drugs, to copious amounts of alcohol, and to women, whom Jordan and his colleagues view as disposable. An object simply to ogle at, to objectify, to fuck.
The movie, which features several extremely sexist and chauvinistic scenes, made me think: what are the most sexist, chauvinistic and demeaning movie scenes? After extensive research, and hours spent watching video clips, I have compiled my personal list of the top 5 most sexist, chauvinistic, and demeaning movie scenes:
5. Every time Andy is referred to by her dress size rather than her name – Devil Wears Prada
Despite being an exceptionally smart and a talented writer, Andy is of little value at Runway magazine. This is in part due to her little to no interest in fashion, and partly due to her overall appearance, with a special emphasis on her weight. Throughout the film, Andy is scoffed at, openly insulted and looked down upon, and directly referred to as her dress size, "6," (which, by the way, is a perfectly healthy size, not that it should even matter.) Ultimately, Andy decides to quit the rat race and leaves Runway, but not before losing weight, placing a much greater emphasis on her appearance, and virtually ruining all of her friendships and relationships in part due to her newfound vanity, body consciousness, and emphasis on material things.
4. Pretty much any scene that involved Arab Women – Sex & The City 2
We are used to seeing men be sexist and demeaning, but it tends to catch us off guard a bit when we see women do it. Nonetheless, throughout their vacation to Abu Dhabi, Carrie and her friends make several insulting comments about Arab women who wear their abayas. Carrie jokes about a woman's ability to eat fries with her abaya, and later in the movie, when some of the Arab women help the four out, they are stunned to see beneath their robes is designer clothing. As fashion is of the utmost importance to Carrie and her friends, this discovery automatically earns the respect of the four. Regardless, their tasteless critiques of cultural traditions, and inability to see the Arab women as women, and not just as specimen to stare and pass judgment at, is undeniably sexist.
3. Laney's Makeover – She's All That
"Makeover" scenes are not a foreign concept in cinema, but Laney's is one that is done with clear sexist motives. Zach solicits the help of his sister to give awkward Laney a makeover, in which she ditches the glasses, hairstyle and clothes for contact lenses, a new haircut and a form fitting dress. Laney's new look catches the attention of Zach, who though originally was only interested in her to win a bet, now seems to show genuine interest now that Laney's "hot." This, of course, is supposed to somehow be perceived as romantic to the audience. In truth, this only sends two equally bad messages: that a woman's only trait of value is her appearance, and further, that you have to have to strip yourself of your individuality to fit a male's standard of beauty. A guy, I might add, that Laney in this case is incredibly ill-suited for.
2. When Jordan offers 10,000 dollars to shave the head of a female subordinate – Wolf of Wall Street
Jordan's brokerage, a testosterone driven cesspool with daily occurrences of hookers and cocaine, offers 10,000 dollars to shave a female subordinate's head. The gesture displays sexism in too many ways to count; the emphasis on making the woman appear more masculine with the haircut, the fact that the action occurred to a female subordinate within a "boys club" work environment, the 10,000 dollars which was to be spent on breast implants— the list goes on. Though there are many scenes throughout the movie that highlight sexism, debauchery, and the poor treatment of women, this one arguably takes the cake.
50 Shades of Gray. Literally the whole movie.
If you have seen the film or read the book, you know that the entire storyline is enveloped in sexism. The plot centers around the juxtaposition of delicate, feminine Anastasia Steele with dominant Christian, who expresses his love by protecting Anastasia from the outside world, while simultaneously expecting total obedience and gratification, much of which plays out in their sexually abusive and submissive relationship. The entirety of the film supports the paradigm that a woman is fragile, sensitive, and in desperate need of protection by the strong, all-powerful male.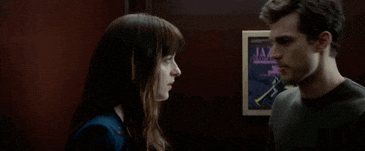 So, there you have it, folks. My top 5 list of the most sexist, chauvinistic and demeaning scenes/films in cinema. Unfortunately, this is a short list, and there are many more scenes and films that could easily fall into this category. While I would love to say movies are changing, the sad reality is that these ideas "sell," and will therefore likely be produced for years to come. However, that does not impede on our ability to actively pay attention and call out the entertainment industry for perpetuating the belief of the inferiority of women.